Spaces/Events
Property common spaces include our Lounge, DiningRoom/BoardRoom/ZoomRoom, Kitchen, Pantry, and Garden. Relax in our swanky Lounge with a book and a glass of wine in front of the sleek fireplace. Host your next private event, company retreat, or Zoom meeting in our DiningRoom/BoardRoom/ZoomRoom. Help yourself to complimentary breakfast items in our Kitchen and Pantry. Soak up the sun in our lush Garden seating area. These are common spaces for our guests to enjoy during their stay. We welcome groups and property buyouts. If you are interested in reserving any of these spaces for a special occasion, private event, meeting, or Zoom session, please contact us directly for details and availability. View our spaces below...
LOUNGE
The Lounge is located in the lobby of our Loft Building. A swanky common space for all of our guests to enjoy. Features include a sleek gas fireplace, imported Italian chandeliers and furnishings, and stunning large scale artwork. A great space to relax while reading a book, playing a game, and sipping on a glass of wine. This space is available for private events.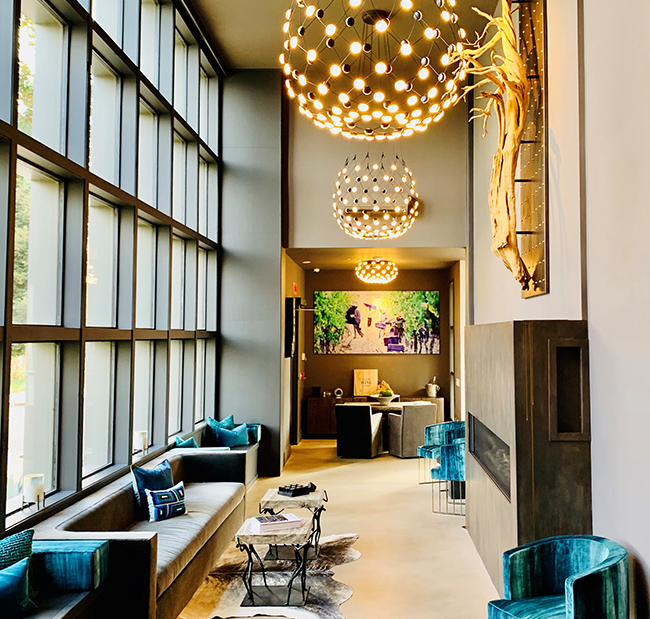 LOFT VERANDA
Outdoor open air living room with sleek lounges and dining table. This versatile space is great for events and private chef dinners.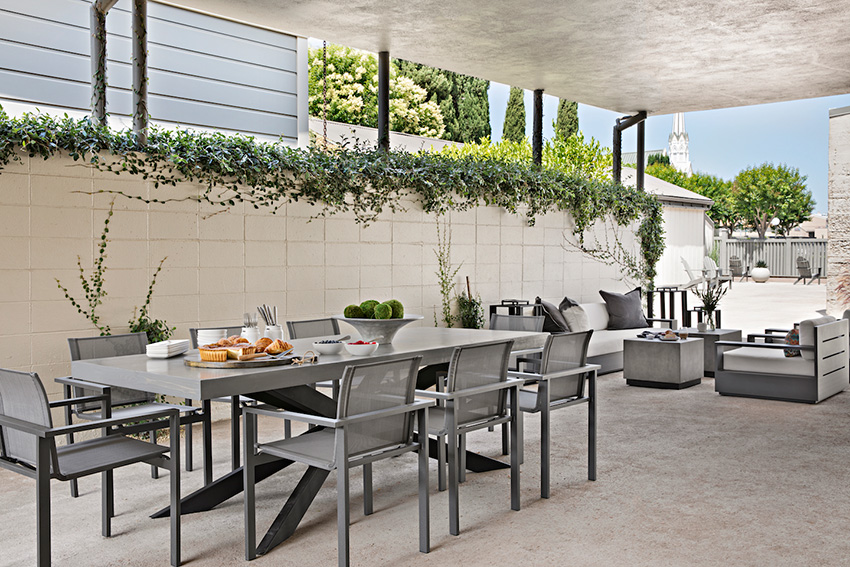 GARDEN
The Garden, located in the back of the property, is an outdoor seating area enclosed by greenery. Guests are welcome to enjoy this space during daylight hours.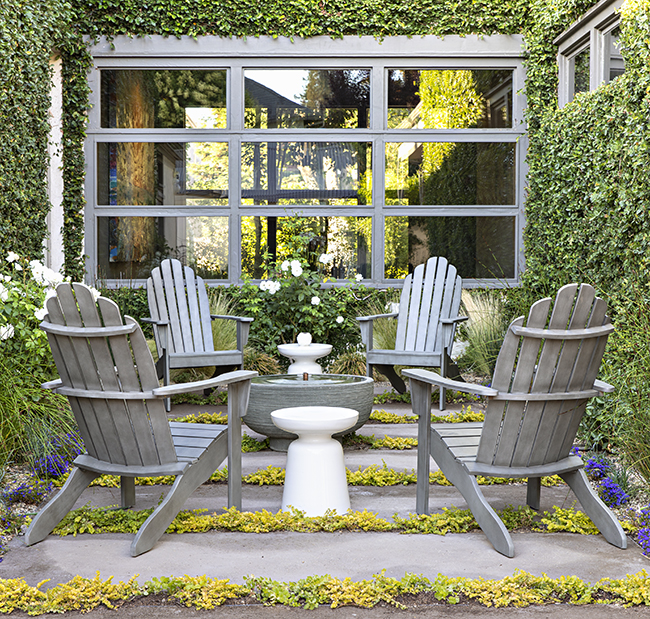 DININGROOM/BOARDROOM
This versatile space features a large farm table that seats up to 10 people, and large scale artwork that slides open to reveal a 60 inch QLED smartTV with full ZoomRoom camera features and functionality. This space is available for all of our guests to enjoy, and is a great space to host a private event, meeting, company retreat, or Zoom session.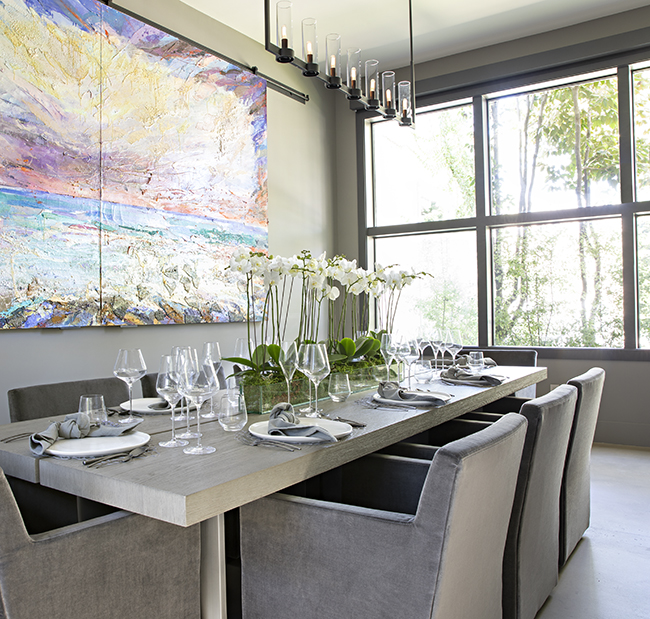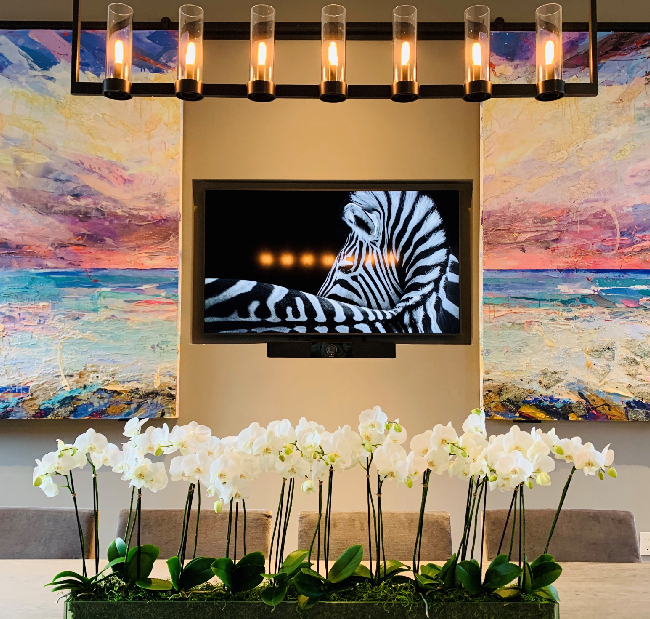 KITCHEN
The Kitchen is accessible to all of our guests at any time. The space offers additional common area seating for guests to enjoy. Complimentary snacks are always available and additional Continental breakfast items are available on the weekends, help yourself! And don't miss FRANKE, our specialty machine that automatically makes just about any coffee beverage you desire. The Kitchen is outfitted with full gourmet appliances and accessories, great facilities for catering and chefs for private onsite events.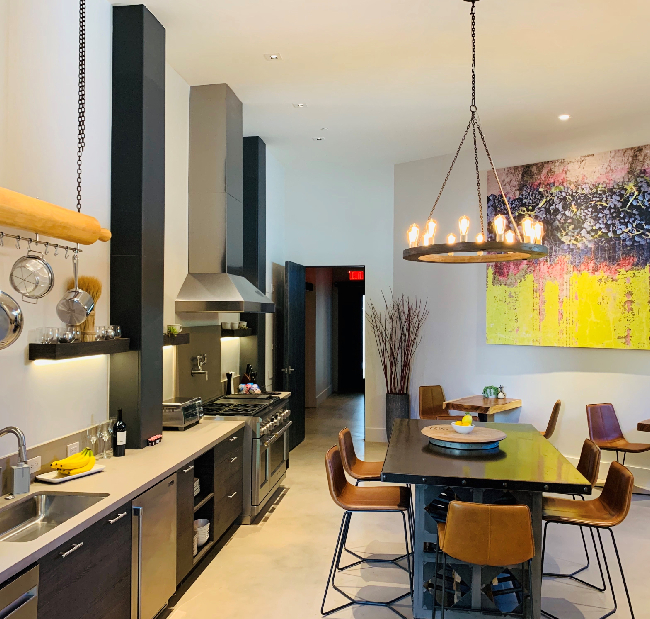 BOCCE BALL COURT
Bocce Ball, day or night, game on!